Prem & Harding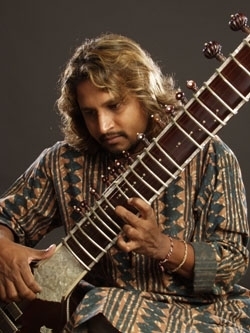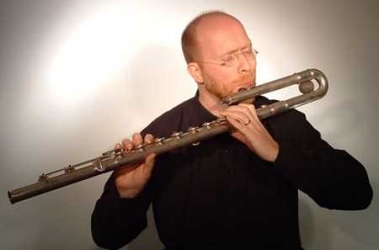 We're excited to announce that our newest album, A Black and White Christmas, is finished and now available! A joint production by MelodicArts Media in association with Raga Gospel Ministries, A Black and White Christmas is a wonderful IndoCanadian fusion approach to traditional Christmas carols from Canada and India, featuring the amazing talents of Hamilton, Ontario sitarist and vocalist Neeraj Prem in partnership with Bruce Harding (flutes, voice, guitar, bass and percussion). Bruce and Neeraj worked on the project when they were together for their BC tour in April, 2009, putting final touches to the recordings this September. What a feast of Christmas music it is!
---
Biography
Neeraj Prem (sitar, vocals) from Hamilton, Ontario, is a senior disciple of Ustad Shujaat Kaan and is musical grandson of legendary sitarist, the late Ustad Vilayat Khan. Prem has performed solo concerts across Canada and around the world, hosted television programmes on Asian Television Network, Omni 2, and Vision Network, and is founder of Ragaffaire, the Toronto-based intercultural fusion ensemble featured on CBC Radio and other media. He is founder and director of the Raga Music School, Toronto. www.ragagospelministries.com
Bruce Harding (flutes, vocals, guitar, bass, percussion), from Surrey, BC, has toured widely across Canada and beyond playing in many genres of pop, world music fusion and sacred music. He has a PhD in Musicology from The University of Toronto, and many albums to his credit, including Let Everything That Breathes, a solo flute album, and numerous albums of gospel music released through www.evensong.ca. Harding is a partner in and music producer for MelodicArts Media, www.melodicarts.com.
---
Discography
A Black & White Christmas (2010)
This album is a labour of love and an example of what our increasingly intercultural world looks and sounds like. We dedicate it to our families and to our many friends around the world. Merry Christmas! Order it all on MelodiCARTs.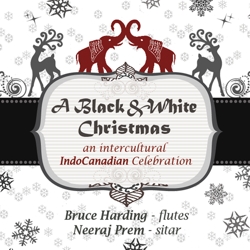 Length
MP3
Sample
Buy
MP3
Buy
PDF
01
Silent Night
8:03
02
Joy to the World
8:00
03
Hark! the Herald Angels Sing
4:52
04
O Come, O Come, Emmanuel
9:48
05
Angels We Have Heard on High
6:30
06
Meera Prabhu/Jesus Christ is Born Today
6:58
07
Away in a Manger
7:03
Download album
51:14
© MelodicArts Media