Panj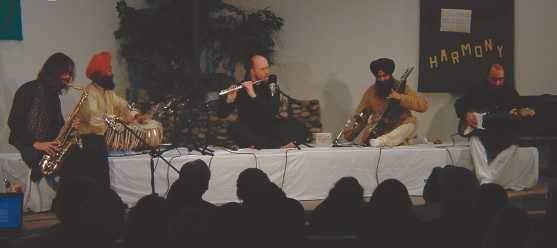 As a group of five musicians, Panj brings together a rich fusion of North Indian classical and Western jazz traditions. Panj is: Bruce Harding (flutes), Surinder Khaira (guitar), Amarjeet Singh (tabla), Harkanwal Singh (dilruba), and Oldrich Zitek (saxophones & alto clarinet).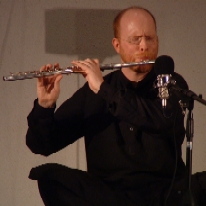 Bruce Harding is a composer and multi-instrumentalist (voice, flute, guitar, electric bass, djembe) who tours regularly across Canada and abroad. He holds three degrees, a Bachelor of Music, and an M.A. and Ph.D. in Musicology, and has many recordings to his credit encompassing a wide variety of sacred and secular repertoire, both vocal and instrumental. Bruce is an avid improvisor, a lover of making music in the moment.

Surinder Khaira has the versatility of Eastern classical and Western styles. These influences are heard in his playing and expressed well through each instrument that he takes up.
Surinder started his tabla lessons at the age of nine and picked up the guitar at thirteen. For the past five years, local drummer and percussionist Mike Michalkow has been tutoring him on the drums and Latin percussions with ongoing Master classes with world class drummers such as Dom Famularo and Chuck Silverman. Surinder is also under the tutelage of tabla nawaz Amarjeet Singh.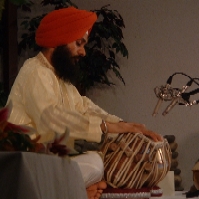 Amarjeet Singh holds a Masters in Music (Tabla) and is winner of the "Sangeet Bhushan" award from the Education Department and Scholarship winner from Rajasthan Sangeet Natak Academy. After being introduced to tabla by Mr Didar Singh, Amarjeet was trained in four different Gharana of music by three renowned musicians: Ustad Late Thakur Kishan Singh of Benaras Gharana, Bhai Baldeep Singh of Punjab Gharana, and Capt. Gunwant Singh Oberoi of Delhi and Azrara Gharana.
He was chosen by the Indian Council for Cultural Relation to teach and perform tabla in Tashkent, Uzbekistan (Russia). Later he took up as Staff Artist at the Faculty of Music and Fine Arts, University of Delhi.
Amarjeet has had the honour of playing tabla with numerous renowned artists from India and abroad. He is presently working with the Satnam Education Society of BC in Surrey.

Harkanwal Singh learned dilruba from Sant Balbir Singh-ji, a spiritual ascetic in the Himalayas. He started experimenting with this vanishing instrument in 1998. An accountant by profession, Harkanwal came to Canada in 2001 as a student. He has played in many concerts in Canada and India.
Presently, there are very few exponents of this instrument. To revive the glory of this instrument is Harkanwal's humble aim.

Born in Slovakia, Oldrich Zitek has pursued a musical career in Greater Vancouver over the past 20 years. Primarily a saxophonist, the world of jazz and blues lies firmly in his roots and he has never lost sight of the importance of pure inspiration.
Graduating from UBC in 1993, Oldrich set out to discover the multicultural riches of India, Pakistan, and China. Such diversity, in terms of music, played a key role in what would inspire and shape the ideas within his improvisation. The combination of East meets West only enhances the experience.