Shashi Lata Virk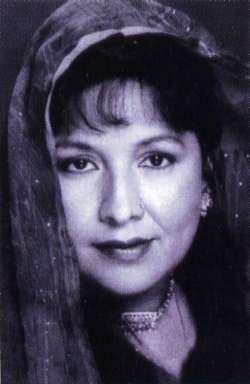 Though Shashilata lives in Canada, far away from the mainstream, her ability, talent and devotion [stun] all those who [attend her programmes]...
…She has full control over her beautiful voice. This [is] evident when she [sings] in the higher octave. Her strict adherence to the sur and accuracy of note placement combined with voice modulation [are] what [make her performances] highly aesthetic.
---
Biography
One of the most profound vocal talents of All India Radio (A.I.R.) and TV, Shashi started her early music training at the age of seven. Under the guidance of late
Ustad Bhure Khan of Kirana Gharana she was groomed from classical to light music. With her devotion and background from Rajasthan, a land having produced some of the artists like Mehdi Hussan, Ustad Ram Narain, Ustad Sultan Khan and the immortal Mira Bai, Shashi became the youngest Top Grade artist of A.I.R. and TV station Delhi.
After her marriage to an Airforce officer, Shashi moved to Bombay recording her first album of Ghazals with HMV India, composed and directed by Ravindra Jain. She also lent her voice as a playback singer in Bollywood films Dukh aur Sukh, Sandhya and a few other ventures.
On the 500th Anniversary of Sh. Guru Nanak Devji, Shashi sang two shabads on an LP record released internationally by Goodyear/HMV India.
Due to the transfer of her husband, Shashi moved back to Delhi and continued recordings and concerts for the National TV and Radio. She had the privilege of recording for the well known composers Anil Biswas, Panna Lal Kathak, Pt. Shiv Parshad, Ustad Nasir Ahmed, Satish Bhatia and others.
Shashi became one of the most sought after artists, and would have achieved greater heights in India; but for the move once again, this time to far off Canada along with her husband and growing family.
Soon after coming to Canada, Shashi met Salim Raza, a renowned singer of Pakistan, who had just immigrated, and got busy with concerts for India/Canada Association Sham-E-Ghazal and other cultural events.
Recognized by the Canadian Cultural Association for promoting Indian Music
Honoured by the British Columbia Cultural Association as outstanding Indians, along with Justice Wally Oppal and Broadcaster Sushma Dutt
Performed Indian music (vocal) for the "First Ever Sacred Music Festival" in Vancouver and "Rootsfest" in Victoria, BC
Released albums Tanhaee (ghazals), Dreams (ghazals) and Shardhanjli (shabads)
Successful concerts in the USA and Canada
Special guest performance with the famous Ustad Sultan Khan (sarangi) by the Virasat Foundation
On her last visit to India, Shashi was appointed a member on the A.I.R. and TV Auditioning Board for upgrading the vocal artists of India to the Top category.
Currently, Shashi runs her Shashilata Music Academy in Surrey BC, and presents Shashilata Night annually to promote new and young artists to continue the traditions of Indian music in Canada.
---
Discography
Dreams: The Agony & Ecstasy of Love (2000)
Ghazal is a short lyrical poem. In India, it is the supreme mode of expression for romantic love; its agony and ecstasy. Ghazal has its origin in Arabia and during the Mughul rule it took shape in urdu language greatly influenced by Persian.
Although Ghazal has not less than five and not more than eighteen couplets, each couplet (she'r) is a poem within a poem. Because of its compact form the Ghazal demands craft and art. Ingenious hyperbole, antithesis, alliteration and above all emotional intensity characterize the form.
Although recited at poetry readings (Mushairas) the Ghazal comes alive when set to music. It is the singer with an individual style, sensuousness and feeling, who unravels its subtleties, embodies it with sweetness and light and generates in the audience an aura of beauty and truth.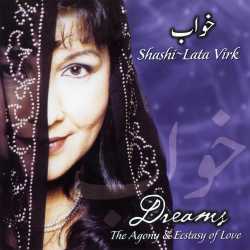 Length
MP3
Sample
Buy
MP3
Buy
PDF
01
Jab Tak Naseeb Raha-e-nazzargi Rahee
7:03
02
Rehne Na Degaa Chain Se Dard-e-jigar Kahein
5:18
03
Begunahee Ka Har Ehsas Mita De Koee
4:54
04
Dil Lazzat-e-nigahe Karam Pa Ke Rahe Gaya
4:53
05
Bhule Se Aa Gaye Woh Idhar
6:00
06
Ham Logon Kee Baat Karen Gey
7:43
07
Woh Koee Khwab Thaa Ehsas Pe Chhane wala
8:19
08
Labe Lalli Sharab Kee Batein
4:18
---
Shardhanjli (1999)
Saluting the New Millennium: A Tribute on the 300th Anniversary of the Khalsa
Shardhanjli is a collection of Shabads taken from the holy book of Sikhism – Sri Guru Granth Sahib. This collection of Shabads was dedicated on the 300th anniversary of the Khalsa.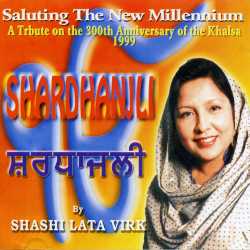 Length
MP3
Sample
Buy
MP3
Buy
PDF
01
Nasar-o-Mansoor
6:44
02
Rakha Ek Hamara Swami
6:31
03
Kahe Re Ban Khojan
5:58
04
Rang Rata Mera Sahib
7:51
05
Mein Banjaran Ram Ki
8:54
06
Tirth Hamra Har Ko Nam
8:19
07
Awal Allah Noor Upaya
6:43
08
Bal, Jwani ar Birdhpun
10:47
© MelodicArts Media