Bruce Harding
Bruce Harding, one of our MelodicArtists, is a singer, songwriter, and multi-instrumentalist from the West Coast of Canada. His improvisations on traditional and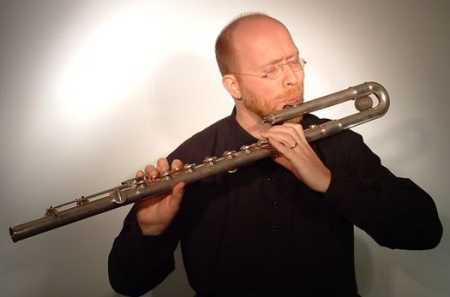 classical flutes, his recordings in a variety of genres, and his passion for live performance have won him many admirers across Canada and abroad. Bruce's events schedule is available on the www.evensong.ca web-site.
---
Biography
Bruce Harding, from Surrey, British, Columbia, Canada, was born in Edmonton, Alberta, into a family which still believed in the time-honoured tradition of family music-making. A child of the manse, otherwise known as a "preacher's kid," he grew up in various communities around Alberta and British Columbia, before quitting high school at 17 to go on the road with a rock and roll band. Harding soon settled in the Vancouver area in the mid-1980s, worked his way through college and university playing in bar bands and other rock, jazz and classical ensembles, and earned various degrees, including a PhD in musicology in 1998 after a six-year stint in Toronto. He is constantly amazed that he has now been making music professionally for over 25 years across Canada and abroad, singing and playing a variety of flutes, acoustic guitar, electric bass and djembe.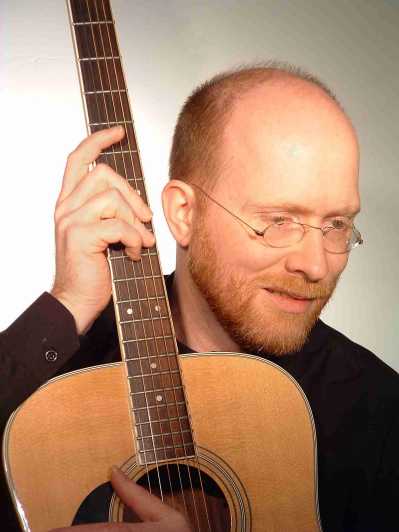 Harding is one of those rare people who bridges the gap between the sacred and the profane, creating instrumental and vocal music for people who thirst for musical and spiritual nourishment. Let Everything That Breathes, his recording of flute improvisations, both solo and accompanied, is a perfect example of music which speaks to the heart, regardless of belief or persuasion. Harding is an avid improviser, a lover of making music in the moment. He has recorded with the Indo-Canadian/jazz fusion ensemble, Panj, with the Dan Damon Quintet from Richmond, California, with Calgary-based singer-songwriter Paul Rumbolt [www.paulrumbolt.com], plus many other projects.
Harding currently plays flutes and other instruments with a number of artists and ensembles: with Samaya, a newly-formed world fusion group in the Vancouver area; with sitar maetro Neeraj Prem [www.ragamusicschool.com] from Hamilton, Ontario; with Canadian singer/songwriter, Linnea Good [www.linneagood.com]; with North Indian vocalists Shashi Lata Virk [www.shashilatavirk.com] and Gagandeep Singh; and with his good friend, tabla virtuoso Amarjeet Singh [www.naadarts.com]. Harding also writes and records music for the liberal church, releasing it in partnership with his wife Cheryl through their company, Evensong Worship Resources [www.evensong.ca].
---
Discography
Let Everything That Breathes (2004)
At long last! A CD devoted entirely to the flute improvisations of Bruce Harding! A healing, soul-filled collection of instrumental meditations for flute and bass flute, some pieces solo and others with accompaniment. People have been asking for a recording like this for many years now, and we are pleased to finally make it happen. Let Everything That Breathes is the first CD in our new Music in the Moment series.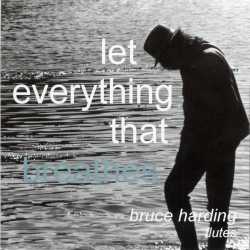 Length
MP3
Sample
Buy
MP3
Buy
PDF
01
On the Wings of the Wind
7:07
02
Hope
6:03
03
The Smile
5:36
04
A Sultry Afternoon
24:05
05
Earth Prayer
7:47
06
Rooted and Grounded in Love
12:35
---
Season of Sharing (1998)
A wonderful recording of gentle Christmas music for piano and flute by Ron Klusmeier and Bruce for Spiritual Arts of Parksville, BC, but also available here on our MelodiCARTs page.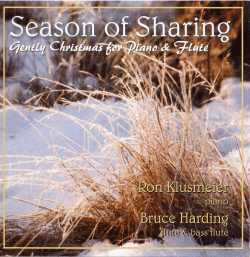 Length
MP3
Sample
Buy
MP3
Buy
PDF
01
O Come, O Come, Emmanuel
3:15
02
Come, Thou Long-Expected Jesus
3:55
03
Lo, How a Rose E'er Blooming
4:06
04
Go, Tell It on the Mountain
2:21
05
Away In a Manger
3:30
06
Angels We Have Heard On High
2:52
07
It Came Upon the Midnight Clear
5:01
08
Good Christian Friends, Rejoice
2:40
09
Infant Holy, Infant Lowly
3:08
10
O Come, All Ye Faithful
3:54
11
What Child is This?
3:45
12
Still, Still, Still
2:42
13
Silent Night
4:48
14
He is Born
2:38
15
In the Bleak Midwinter
3:31
16
The First Noel
3:48
© MelodicArts Media